Home
»
Danish windows and doors
We manufacture custom-sized windows and doors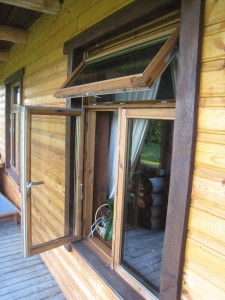 The customer chooses the finishing material (paint, stain, varnish, or oil-based coating)
Selection of sealed units that adhere to applicable heat retention, soundproofing, and safety requirements
We make outward opening casement windows – Danish windows. Our casement windows open to the side or upwards.
The windows feature a slim profile, resulting in a lighter and airier look; the visibility of smaller windows is not diminished by wooden parts.
Our windows and doors are made using glulam and natural wood with pine as our timber of choice. Our thresholds are made of meranti or ash.
Our windows are rainproof – the stronger the wind or rain induced pressure exerted on the window, the more firmly the window is closed.
Owing to their slim profiles, Danish windows are a perfect fit for renovated buildings.
Extended freedom in interior design. Our outward opening windows set no restrictions to curtain placement or movement. Furthermore, items can be placed on the window sill as our window frames are set outside of the perimeter of the head and side jambs.
FITTINGS
Sash locks: IPA, ASSA, HABO, FIX
Handles: FIX83 Cr/S
Finger locks: IPA
GLASS
Double or triple glazing
Glazed using sealed glazing beds
Fastened using countersunk nails
SEALS
Encasing the frame and for glazing
ADVANTAGES OF GLULAM WINDOWS:
Wood ensures excellent soundproofing qualities;
Glulam provides greater strength at reduced bulk density;
Ensures excellent heat retention;
Our window profiles last, resisting changes;
Wood is a breathable material, ensuring balanced humidity in your home;
The material used has a pleasant natural look;
Wood resists static electricity, rendering our window profiles dust-free and unsoiled.
Our knowledge and skills guarantee the best solution for you.

To request a price quote or ask a question, write to info@aigur.com